Jeremy is a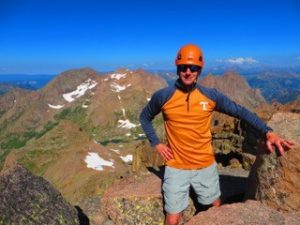 Lecturer for the division of Biology and a Research Assistant Professor in the Microbiology department.  He received his PhD in Microbiology from the University of Tennessee where he studied genetic distributions and competition among ecotypes of Prochlorococcus marinus, a cyanobacterium of global significance that inhabits the world's tropical and subtropical oceanic gyres. Jeremy discovered his love for instructional support during his tenure as a graduate student and continues to spread his enthusiasm for science to all his classroom environments.  Following completion of his Ph.D., Jeremy served as adjunct faculty support at both the University of Tennessee and Pellissippi State Community College, before returning as full time faculty to the University of Tennessee.    He currently provides development and instructional support for the division of Biology in non-majors courses (Bio 101-102) and general and advanced microbiology courses (Bio 220 and Micro 321).
Jeremy's passion for Biology was cultivated starting in his early childhood by family experiences and Boy Scouts of America.  Those interactions continued through his Ph.D. completion to present.  He attempts to bring unique field experiences back to the classroom setting, to help generate relevance and appreciation for the seen and unseen worlds that are right at our doorsteps.  Jeremy's pedagogical interests revolve around creating and improving upon fun, open, inclusive and interactive classroom-learning environments.  Recently he has been investigating the roles of additive manufacture (3D-printing) in helping students understand structural and functional dynamics of various biological systems.
Jeremy enjoys getting outside when time permits for backpacking, climbing and mountain biking.  He volunteers at the Knoxville Volunteer Rescue squad as a member contributing roles involving vehicle extrication, technical vertical and water rescue applications.  Jeremy enjoys spending time with his family, dog and a small flock of chickens in Knox County.
Past Publications:
Hellweger FL, van Sebille E, Calfee BC, Chandler JW, Zinser ER, et al. (2016) The Role of Ocean Currents in the Temperature selection of Plankton: Insights from an Individual-Based Model. PLOS ONE 11(12):e0167010. doi: 10.1371/journal.pone.0167010
Chandler, J. W., Y. Lin, P. J. Gainer, A. F. Post, Z. I. Johnson and E. R. Zinser (2016). "Variable but persistent coexistence of Prochlorococcus ecotypes along temperature gradients in the ocean's surface mixed layer." Environmental Microbiology Reports
Lin, Yajuan, Gazsi, Katrina, Lance, Veronica P., Larkin, Alyse A., Chandler, Jeremy W., Zinser, Erik R., Johnson, Zackary I., In situ activity of a dominant Prochlorococcus ecotype (eHL-II) from rRNA content and cell size. Environmental Microbiology, 2013. 15(10): p. 2736-2747.